On 6th December 2022, the ETSI TeraFlowSDN group (ETSI TFS) won the Layer123 Network Transformation 'Upstart of the Year' Award. The awards ceremony was held at the prestigious Berkley Hotel in Knightsbridge, London.
TeraFlowSDN was launched only six months ago and was born from the TeraFlow H2020 EU-funded research project. The project is currently developing an open-source cloud native SDN controller for smart transport networks, also supporting standardization work. This award recognizes the quality of the work done in TeraFlow and also ETSI strategy to provide new software development tools and practices to an evolving standardization ecosystem. The award arrives five years after the Best Open Source Development Initiative for Network Transformation Award that was granted to OpenSourceMANO, the first Open-Source project launched by ETSI and a sibling of TeraFlow.
"This recognition rewards the intense work of the entire TeraFlowSDN community throughout this year. It is an honour and a motivation to receive this award and it encourages us to continue working for a very successful second release and thus help the adoption of transport SDN by operators" says Dr. Ricard Vilalta, CTTC, ETSI TeraFlowSDN Chair.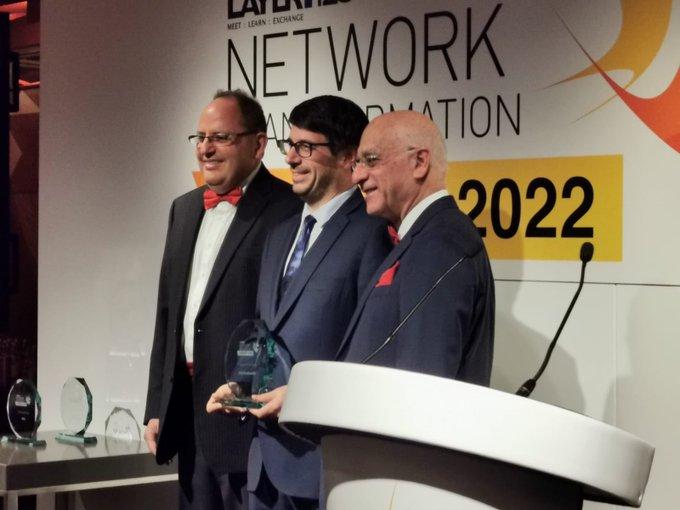 In the picture, our proud coordinator Ricard Vilalta from Centre Tecnològic de Telecomunicacions de Catalunya (CTTC) receives the prize from the organisation. 
________
For more information, visit: www.teraflow-h2020.eu
Follow TeraFlow on Twitter and LinkedIn, and subscribe to its newsletter for being up to date with all the progress
About TeraFlow:
TeraFlow – Secured autonomic traffic management for a Tera of SDN flows - is an EU-funded project under the Research and Innovation programme H2020 with the Grant Agreement Nº 101015857. TeraFlow will create a new type of secure cloud-native SDN controller that will radically advance the state-of-the-art in beyond 5G networks.
For further information about the project please contact TeraFlow Project Coordinator, Ricard Vilalta, CTTC: ricard.vilalta@cttc.es
Other press releases: